Back
Your Business
10.31.22
Webinar: Preventing Common Business Fraud – Keeping Your Business Safe
Hosted by Kevin King, Director of Enterprise Fraud Management at Atlantic Union Bank, the free webinar Preventing Common Business Fraud provides tips to help you be vigilant in order to keep your business safe from fraud.

In this webinar, you'll learn:
Today's most common types of business fraud
Preventative measures you can take to keep your business safe
What to do if you think you or your business has been a victim of fraud
Click
here
for a downloadable version of the presentation.

Webinar presented and hosted by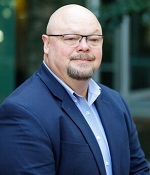 Kevin King, CFE, CAFP, MBA
SVP, Director Enterprise Fraud Management
Atlantic Union Bank
Kevin joined Atlantic Union Bank in April of 2022, bringing over 20 years of fraud, risk, technology, and regulatory compliance experience to his current role as Director of Enterprise Fraud Management. In this role, he is responsible for all facets of the organization's fraud: risk mitigation, investigations, detection and prevention.
You Might Be Interested In