In Part One of our series on Retirement Planning, our wealth experts help breakdown the different types of retirement accounts that an individual may have, as well as how to invest dollars in those accounts.

This discussion will focus on building a retirement plan along with integrating it with overall financial and estate plans. The accounts discussed in the webinar include:

Pension Accounts
Employer Sponsored Retirement Plans (401K or 403B)
Traditional, Roth, Rollover, and Inherited IRAs
Qualified Charitable Distributions
Webinar presented and hosted by:

Grey Merryman
SVP, Wealth Relationship Director
Grey brings over 30 years of experience in financial services to Atlantic Union Bank Wealth Management. As a Wealth Relationship Director, he develops customized strategies for his clients that include investment, estate, and retirement plans, as well as business exit strategies for business owners.
704.330.3295



Dawn Heneberry
Managing Director, Old Dominion Capital Management (ODCM)
Dawn is a long-time Charlottesville resident with over 30 years of experience in the financial services industry. Skilled in Financial and Estate Planning, she specializes in developing comprehensive financial solutions with an emphasis on building personal relationships. Dawn's responsibilities include oversight of client services and overall business success of the firm.
434.977.1550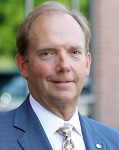 Scott Bussells
Director of Retirement Services
Scott brings over 25 years of corporate retirement planning experience to our team. Additionally, he served as a retirement plan wholesaler for 12+ years in the 401(k), 403(b), and 457 marketplace covering Mid-Atlantic based advisors, consultants, and agents in handling their corporate clients' retirement plans.
804.217.6752


Part Two in our series is scheduled to be posted on April 18th.

---
Disclosures: Atlantic Union Bank Wealth Management is a division of Atlantic Union Bank that offers asset management, private banking, and trust and estate services. Securities are not insured by the FDIC or any other government agency, are not deposits or obligations of Atlantic Union Bank, are not guaranteed by Atlantic Union Bank or any of its affiliates, and are subject to risks, including the possible loss of principal. Deposit products are provided by Atlantic Union Bank, Member FDIC.