How Transactions Post to Your Account
Understand the order transactions are applied to your account.
Understanding how your transactions post can help you budget effectively to cover all of your transactions
---
What does posting order mean?
Posting order is the order in which transactions (debits and credits) are applied to your account during the nightly posting process that happens at the end of each business day. Credits, like deposits, are added to your account balance, and debits, such as checks and ATM withdrawals, are subtracted from your account balance.
How does posting order affect my account?
The posting order may not have any impact to your account as long as you have sufficient funds to cover your transactions. Because transactions are paid in a particular order, though, you will need to stay aware of your balance to ensure there is enough money in your account to cover the payments in the order that the amounts are subtracted.
What is the transaction posting order?
At the end of each business day, we group like transactions into categories before we post them. And each group is then placed in chronological order. Below are the most common categories in the order they will post and some common types of transactions within each category:
1. All Credits – these are deposits and credits that include cash deposits, check deposits, direct deposits, and incoming wire transfers.
2. Pre-Authorized Debits – these are transactions that have been previously authorized by us and must be paid. They include ATM withdrawals, debit card purchases, recurring debit card transactions, and checks cashed at the teller window. These items will post according to their timestamp.
3. Other Debits – this category includes automated payments (ACH) and transfers, checks, and bill pay transactions paid through Online Banking. Checks will post in check number order. Other debits post from lowest dollar to highest dollar amount.
4. Bank Fees – generally, bank fees are posted last. However, some transactions have fees associated with them and these are deducted at the time of the transaction.
There may be some rare instances when transactions have the same timestamp. If that happens, we will post those transactions by lowest to highest dollar amount.
Example of a common transaction posting order for a given day: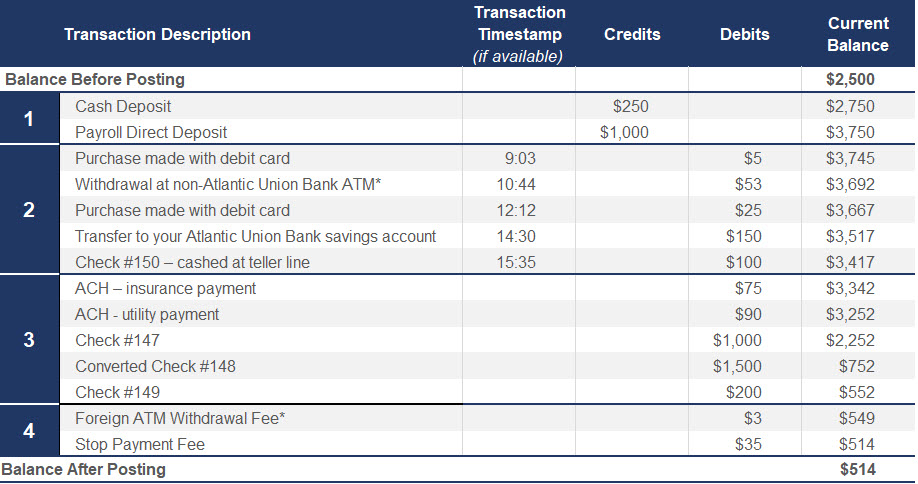 Note: The items listed above include common categories and common types of transactions and are not inclusive of all transactions. *Example: You make a $50 withdrawal from a non-Atlantic Union Bank ATM that charges a $3 fee; the transaction is also subject to Atlantic Union Bank's Foreign ATM Withdrawal Fee of $3.
Check your balance anytime via your online banking account or our mobile banking app.
Set up customized balance and transaction alerts through online banking and push notifications through our mobile banking app.
If you have questions, or want more information about any of our services, please call our Customer Care Center at 800-990-4828, visit your local branch or schedule an appointment.
Additional resources
How else can we help?
Helping businesses grow since 1902
We're a regional bank that offers financial strength, industry-specific expertise and a full suite of commercial banking, treasury and wealth management solutions to help you and your business grow. Our business model is built on fostering long-term relationships with customized solutions and access to local decision makers.