Google Pay™
A fast and simple way to pay
Turn your Android phone into a mobile wallet with Google Pay™.
Easily pay with just a touch
Enhanced security for card transactions
Make purchases in-store, in-app and online
Simplify the way you shop when you use your Atlantic Union Bank debit or credit card with Google PayTM
---
Google Pay and your Atlantic Union Bank card put the power of payments in one easy tap. This payment technology allows users to make secure, fast, and hassle free payments in-store and in-app at participating merchants. Join the next evolution of payments and enjoy convenience and security.
Google keeps all payment information on secure servers to help keep transactions safe. Your full card details are never stored on your phone or shared with merchants. They're only provided with your Virtual Account Number. If your phone is ever lost or stolen, you can use Android Device Manager to instantly lock your device, or even wipe it clean of any personal information.
Set up Google Pay
It's easy to add your Atlantic Union Bank credit or debit card.
Open the app and touch the "+" sign to add your Atlantic Union Bank debit or credit card
Snap a picture of your card and follow the on-screen verification steps
Once your card is verified, you can start making purchases
Change your default card
Your default card in Google Pay will always be at the top of your wallet. To change your Google Pay default card:
Open the Google Pay app to view your wallet
Tap the debit card to be your default card and drag it to the top of your wallet
Frequently Asked Questions
Where can I use Google Pay?
Google Pay works in stores, in apps and on websites – just look for the contactless payment or Google Pay symbols.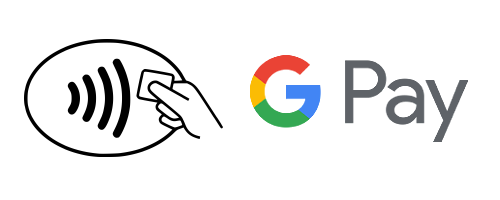 Is Google Pay free?
Yes, there is no charge to use Google Pay. However, depending on your data plan, message and data rates may apply.
Will I still earn rewards and benefits from my card when I pay using Google Pay?
Yes, you will! You'll still get all the benefits and protections that your credit or debit card provides.
What do I need to get started with Google Pay?
Android device running Android Lollipop 5.0 or above
Google account
Screen lock enabled
How do I get Google Pay?
Look for the Google Pay app on your phone or simply download it on the Google PlayTM store.
Where can I get more information about Google Pay?
More information is available at the Google Pay website.
---
DISCLOSURES:
Google PayTM payment service is a registered trademark of Google LLC All rights reserved.
Better Customer Support Starts here
Not sure where to start? We can guide you in the right direction.