Asset Allocation
A diversified blend of asset classes seeks to maximize returns for a defined level of risk
We believe proper allocation across multiple asset classes is the single most important determinate of a portfolio's long-term performance and variability.
Asset Allocation
Broad diversification across various asset classes helps reduce overall portfolio volatility, while increasing the potential for improved performance.
Our goal is to construct efficient portfolios that can outperform across the full market cycle.
Our role is to identify each client's goals, risk tolerance, time horizon, income needs, and special circumstances so we can properly allocate the portfolio into the various investment asset classes.
Capital Markets Returns – Risk vs. Reward
Our target Asset Allocations are structured as a diversified blend of asset classes that seek to maximize return for the defined level of risk.
A customized portfolio is designed for each client based on a combination of factors, including risk tolerance, time horizon, cash flow needs and other investment objectives.
The Efficient Frontier is a way of conceptualizing optimal portfolio construction for a given level of risk as measured by standard deviation: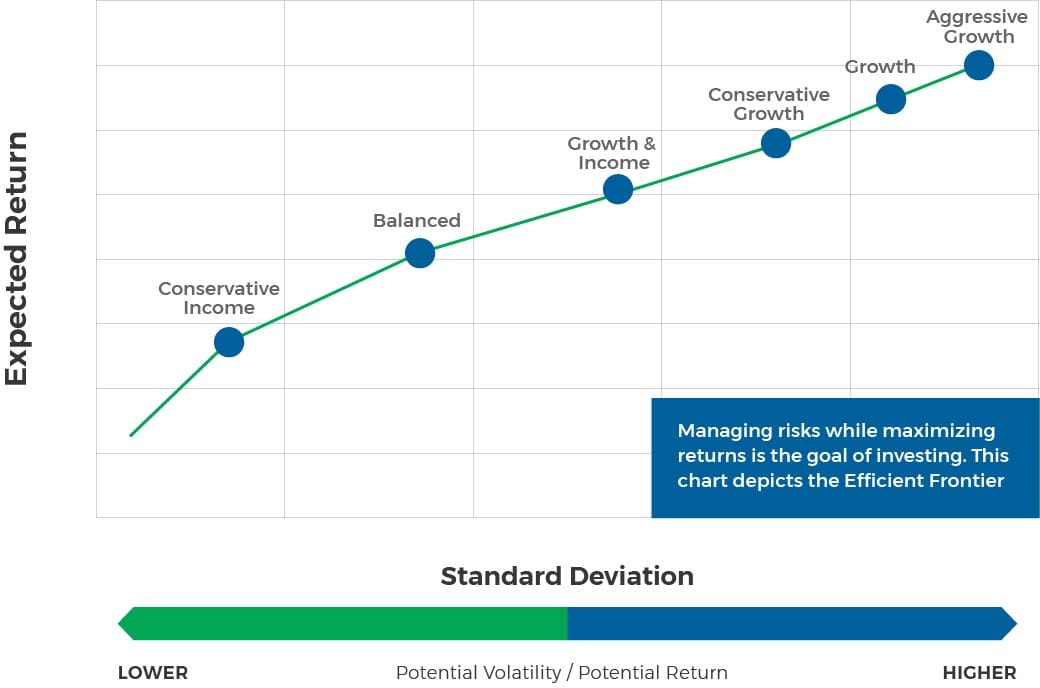 THE RIGHT MIX OF ASSETS IS BASED ON YOUR UNIQUE GOALS.
Construct efficient portfolios
Increase the potential for improved performance
Create a customized strategy based on your goals and risk tolerance
---
Atlantic Union Bank Wealth Management is a division of Atlantic Union Bank that offers asset management, private banking, and trust and estate services. Securities are not insured by the FDIC or any other government agency, are not deposits or obligations of Atlantic Union Bank, are not guaranteed by Atlantic Union Bank or any of its affiliates, and are subject to risks, including the possible loss of principal. Deposit products are provided by Atlantic Union Bank, Member FDIC.