Environmental, Social and Governance
Achieving our ESG goals for all of our stakeholders
---
About These Sections
We believe that attention to Environmental, Social and Governance ("ESG") considerations will help contribute to our success and benefit all of our stakeholders. The following summary highlights certain human capital components of our ESG policies and practices. Plus additional details around our stakeholder approach can be found in the sections below.
Our Workplace Culture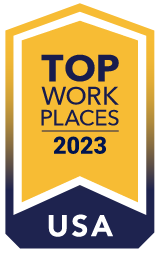 Atlantic Union Bank (AUB), named a national Top Workplace in 2023, is a premier Mid-Atlantic Bank – a high performing company that makes banking easy by providing digital-forward experiences combined with a human touch. AUB is committed to serving our customers and has an internal culture and teammate experience that makes it a great place to work! We continuously work towards balancing our commitments to key stakeholders. Learn more below about Teammates, Customers and Shareholders.
We use the term "Teammates" to describe our employees because the Company operates as one team, where everyone is valued for their contributions, we embrace our differences and we treat everyone with respect. A rewarding Teammate experience is key to attracting and retaining Talent. We inspire our Teammates to grow and develop, love what they do and who they do it for.
Learn more about our
values and culture
, career opportunities for
military veterans, veterans with disabilities, and active military personnel
, and our Summer Diversity Internship Program.
We believe that people have a right to expect more from the companies they do business with, and that includes a commitment to doing the right thing. We believe that satisfied customers think of us first for their banking needs, refer us to others, and reward us with their loyalty. By offering fair financial solutions and honest advice, we create opportunities for families and business owners. Learn more about expecting a better banking experience.
Achieving top-tier financial results enables us to invest in our Teammates, customer and communities, while providing above-average returns to our shareholders.
---
Our Core Values
"Our core values establish the foundation of Atlantic Union Bank and influence our future success: Caring, Courageous and Committed guide our actions."
| | | |
| --- | --- | --- |
| CARING | COURAGEOUS | COMMITTED |
| Working together toward common goals, acting with kindness, respect and a genuine concern for others. | Speaking openly, honestly and accepting our challenges and mistakes as opportunities to learn and grow. | Driven to help our clients, Teammates and company succeed, doing what is right and accountable for our actions. |
Atlantic Union Bank is committed to providing equal opportunity in employment to all Teammates and applicants for employment. No person will be discriminated against in employment because of race, religion, color, creed, gender, age, national origin, disability, marital status, pregnancy, sexual orientation, military status, veteran status, genetic information, or any other protected class under the applicable law.
---
Our Community Impact
Atlantic Union Bank has a culture of giving back to our communities. From charitable donations, small business lending, volunteerism, teaching financial literacy, and promoting diversity and inclusion, are just some of the ways we help our community.
Our teammates are passionate about supporting local initiatives, regularly volunteering in schools, participating in charitable walks, and getting involved in fundraisers. To learn more, check out our annual Corporate Social Responsibility report.
Our Commitment to Anti-Money Laundering (AML)
Atlantic Union Bank is committed to safeguarding its customers and aiding in the prevention and detection of financial crimes, including anti-terrorism financing. Learn more by visiting our AML page.
Better Customer Support Starts here
Not sure where to start? We can guide you in the right direction.