When Your Deposit Will Be Available
Understand when money you deposit is available.
We want you to know when your deposits are available for you to use.
---
Knowing when different types of deposits are available for you to use may help you better manage your account. Once the funds from your deposits become available, you can withdraw them in cash and we will use them to pay checks you have written and cover other types of payments you made.

Note: In some cases, check deposits may be subject to deposit holds which further delay availability of funds. If we place a deposit hold on your checks deposited, we will notify you at the time you make your deposit. Please refer to our Funds Availability Policy for more information.
Deposit Cutoff Times
The chart below includes our daily cutoff times based on how you make your deposit. When you make a deposit before the cutoff time, we consider that day to be the day of your deposit. All times shown are Eastern Time (ET).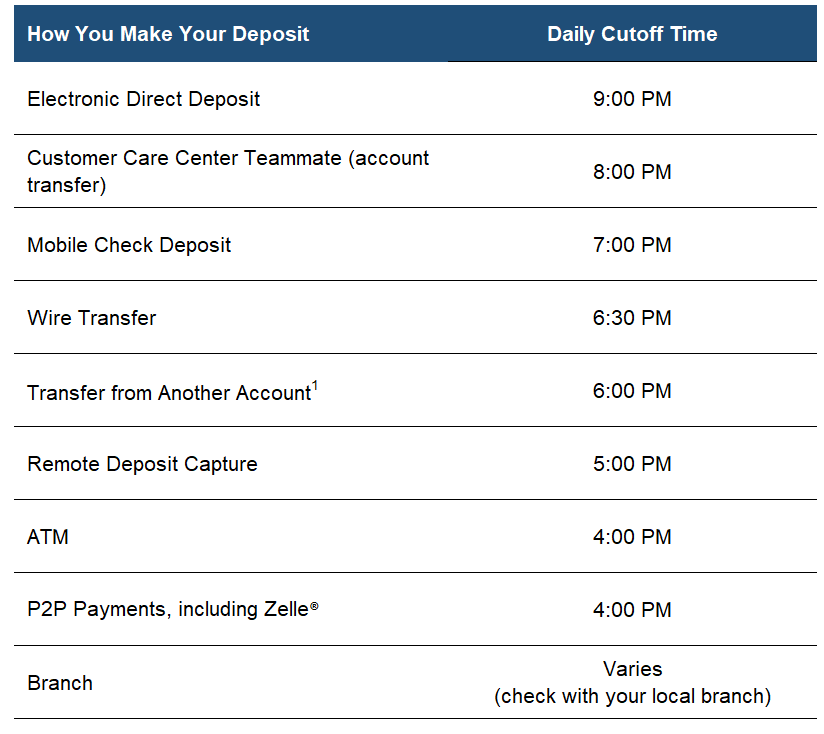 1Transfers from your accounts can be made through our automated line at 800-990-4828, Mobile or Text Banking, Online Banking for personal accounts, or Business eBanking for business accounts.

Additional resources
How else can we help?
Better Customer Support Starts here
Not sure where to start? We can guide you in the right direction.