ECC Restoration Incorporated's owners, Bob and Marianne Hage, are used to leaving others in better shape. But little did they know Atlantic Union Bank would do the same for them.

With over 30 years of experience in residential and commercial construction, plus over 20 years of expertise in fire, mold and water restoration, ECC Restoration, Inc. chose Atlantic Union Bank for convenience, proximity and one invaluable asset—Business Banker, Phil Barbour, serving the Roanoke, Virginia community.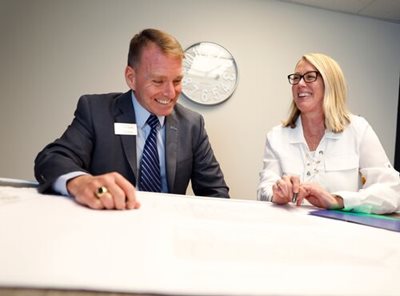 "We can call or email Phil about most anything and get immediate assistance and advice," Bob and Marianne said. "Establishing our line of credit was a huge help. Also, being able to purchase our first building was an important step."

Currently, ECC Restoration, Inc. enjoys a wide array of our business banking services, such as checking, a money market account, loan services, auto-pay, and Marianne is especially pleased with direct deposit because it leads to a more streamlined operation.

In a business that operates 24 hours a day, 7 days a week, work needs to move fast because lives and livelihoods are on the line. Whether devastated by fire, flood, or the health concerns that arise with mold, people and businesses rely on ECC Restoration, Inc. And we couldn't be prouder that they rely on us.

"They are always friendly and willing to help," Bob and Marianne added.

Want all the banking services to make your business more productive? Visit us at an Atlantic Union Bank Branch. What's more, and especially if you live in Southwest Virginia, contact Phil Barbour for all your banking needs.

Tell them Bob and Marianne sent you.