Apple Pay®
The easy, safe, private way to pay
Turn your iPhone®, iPad® or Apple Watch® into a mobile wallet.
Easily pay with just a touch
Enhanced security for card transactions
Make purchases in-store, in-app and online
Make purchases quickly and effortlessly when you use your Atlantic Union Bank credit or debit card with Apple Pay.
---
You're on the move and your transactions should keep pace. With Apple Pay, you present your device in the checkout line instead of swiping your card.
Your entire transaction is secure, as your credit and debit card numbers aren't stored on the device, so they're never shared with the merchant. And if your iPhone is ever lost or stolen, just use the "Find My iPhone" feature.
Set up Apple Pay
Get started by adding your Atlantic Union Bank credit or debit card. You'll just need an eligible iPhone, iPad, Apple Watch or Mac1 that's using the latest version of iOS, watchOS or macOS.
Open Wallet and tap the "+" icon in the upper right corner
Follow the steps to add your Atlantic Union Bank debit card with your camera or enter it manually; if you're adding the card that you use with iTunes®, you'll just enter its security code
Once your card is verified, you can start making purchases
Change your default card
Go to "Settings > Wallet & Apple Pay"
Tap "Default Card"
Choose a new card
Frequently Asked Questions
Where can I use Apple Pay?
You can use Apple Pay in all kinds of apps and on participating websites. It's also accepted at more than 220,000 locations. Look for these symbols at checkout: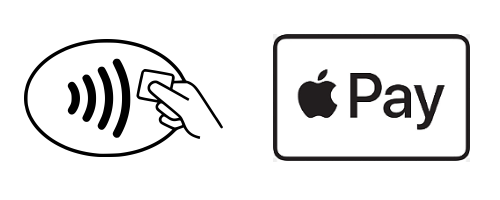 Is Apple Pay free?
Yes, there is no charge to use Apple Pay. However, depending on your data plan, message and data rates may apply.
Will I still earn rewards and benefits from my card when I pay using Apple Pay?
Yes, you will! You'll still get all the benefits and protections that your credit or debit card provides.
How many cards can I add to Apple Pay?
The number of cards you can add is based on your device. Visit the Apple website for information about how many cards you can add.
How do I make a purchase with Apple Pay?
Hold your phone near the contactless reader. Place your finger on the Touch ID ® or you may need to enter a passcode and sign a receipt. Keep your phone by the reader until it vibrates and beeps, indicating that your payment was accepted.
Why am I being asked to call to verify my card?
If your iTunes account address does not match the address we have on file for your credit card, you may be prompted to call us for verification as a final step before enrollment.
Where can I get more information about Apple Pay?
More information is available at the Apple website.
---
1Visit Apple's website to determine which device and carrier combinations are compatible with Apple Pay.
Apple Pay®, Apple®, iPhone®, iPad®, iTunes®, Pay Wave® and Touch ID® are trademarks of Apple, Inc., registered in the U.S. and other countries. iTunes is for legal or rightholder-authorized copying only.
Additional resources
How else can we help?
Better Customer Support Starts here
Not sure where to start? We can guide you in the right direction.