When seeking mortgage financing for the purchase of a home, you have the option of having your lender prepare a "Pre-Qualification Letter" to affirm that you are preliminarily qualified for the offer you are making. In addition to this standard Pre-Qualification, Atlantic Union Bank (AUB) gives its customers two additional tiers of pre-approvals that have different degrees of qualifying standards. Regardless of the option you select, AUB is fully committed to providing the best service possible. You are not required to provide any financial verification information to us before receiving a Loan Estimate. We've explained the options in more detail below.

Pre-Qualification: Gives you a sense for your home price range and estimated closing costs based on financial information you provide that hasn't been verified. Consider doing this when you're early in the homebuying process and want to get a sense for the amount you can qualify for.

Preferred Buyer Pre-Approval: Gives you a pre-approval for a loan scenario with a specific loan amount. Your documentation is partially verified, but not reviewed by an Underwriter. Consider doing this when you're ready to begin the homebuying process, but haven't started looking for a home yet.

Certified Buyer Pre-Approval: Gives you an approved loan commitment based on information you provided that's been fully verified, subject only to property specific information. Consider doing this when you're ready to start looking for a home, so you can write an offer with the confidence of being approved already. This will make you as attractive as a cash buyer when negotiating for your home.

The housing market is becoming increasingly competitive and it's more difficult than ever to win purchase bids. With that being said, it is no longer the "highest and best" amount that wins the bid. A Certified Buyer Pre-Approval is an incredibly powerful negotiating tool, which can make the difference between your offer being accepted over another.

Let's take a deeper dive at how the different options compare, so you can make an informed choice.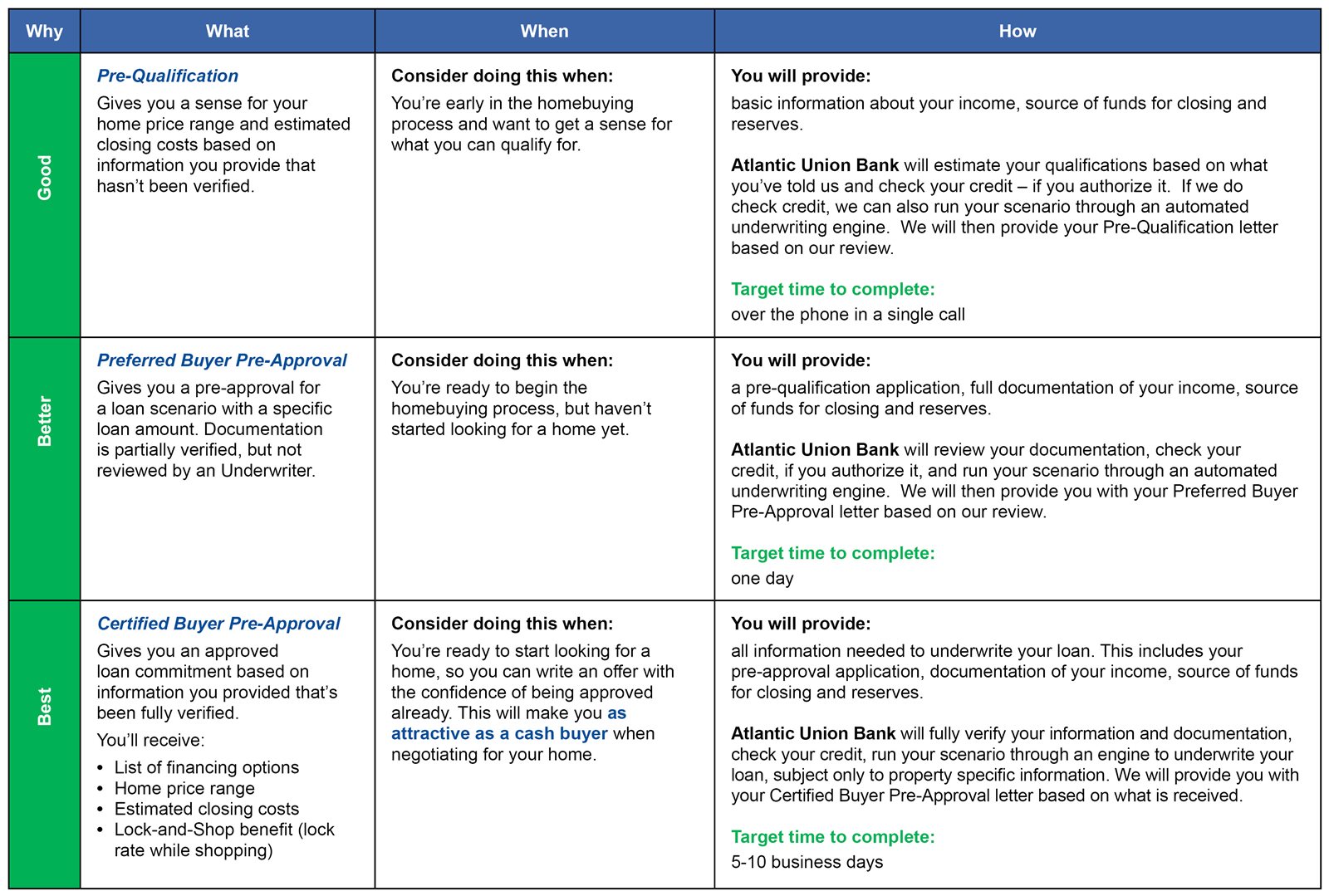 What's next?
If you are working with a Mortgage Loan Officer, contact them to discuss which option is best for you. If you aren't, find a local mortgage professional or learn more about our mortgage offerings here.